Dr. Joe Valese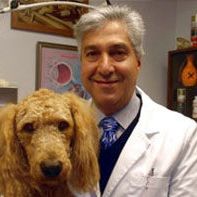 Dr. Joseph Valese received his degree as Doctor of Veterinary Medicine (DVM) from Michigan State University, College of Veterinary Medicine in 1983. He received a Master of Science degree in Animal Science from the Graduate School of Rutgers University and a Bachelor of Science degree in Animal Science from Cook College, Rutgers University. The advanced level of pet dental care and oral surgery Dr. Valese is able to provide is not taught in Veterinary schools. Following graduation, Dr. Valese has spent many additional years in the study and practice of pet dentistry. Advanced pet dental care in periodontal therapy, oral surgery, root canal therapy, difficult extractions, repair of broken teeth, and orthodontic care for pets have all been learned after obtaining his Veterinary degree. Dr. Valese assists in pet dental care training for other Veterinarians and Veterinary Technicians. He continues to stay up to date with any current advancements in pet dental care and oral surgery.
Dr. Valese created All Pets Dental Care & Oral Surgery in 1999, where pet dentistry and oral surgery is all that we do. Recognized as a pet dental care expert by his peers, Dr. Valese receives pet dental referrals from surrounding veterinary practices in Pennsylvania, New York, and New Jersey. He has also owned and operated the Animal Hospital of Mt. Pocono since 1986.
As the only doctor at the All Pets Dental Care & Oral Surgery, there is always continuity in the dental healthcare of your pet as Dr. Valese really gets to know his patients. "I enjoy the practice of veterinary medicine immensely, and being able to provide the advanced dental care my pet patients need is a real blessing. I receive great joy in helping people care for the pet members of their family. When it comes to your pet, I treat them as if they were my own." This kind of caring shows through from not only Dr. Valese, but from all his highly trained staff members.