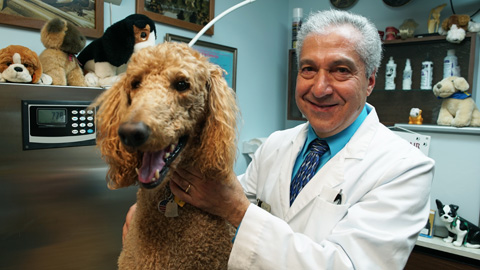 As your trusted pet dental experts in Pocono, PA, we are proud to provide the highest quality of care to your beloved family pets. With many years of combined experience, we know that regular pet dental checkups is one of the most important aspects of preventative veterinary care. We understand that just like their owners, your family pets can greatly benefit from good dental hygiene. Not only can regular dental cleanings help to keep your pets mouths healthy but they can also work to prevent many common health issues as they grow older.
Meet Our Pocono Pet Dental Care Team
Dr. Joseph Valese has been practicing at All Pets Dental Care & Oral Surgery since 1999. After receiving his Doctor of Veterinary Medicine degree from Michigan State University in 1983, Dr. Valese went on to complete his Master of Science degree in Animal Science at the Graduate School of Rutgers University.
With a passion for preventative animal care, he focused his studies on an advanced level of pet dental care and oral surgery. Dr. Valese is now considered an expert within the industry and often works with referrals from surrounding practices all over Pennsylvania, New Your and New Jersey. His additional years of study and hands-on practice have helped to make him a leader in periodontal therapy, root canal therapy, oral surgery, difficult extractions and other advanced forms of oral care for pets.
Dental Care Services Offered by Our Veterinarian in Pocono
As a full-service pet dental and oral surgery veterinarian, we are proud to provide a wide range of veterinary dentistry services. With Dr. Valese's many years of practice and advanced training, our services go far beyond simple pet teeth cleanings and dental extractions. Some of the most common dental services we offer for your family pets include:
Comprehensive pet dental examinations and oral health consultations
Periodontics or gingival surgery for failing teeth and gum disease
Exodontics (extractions)
Oral surgery
Endodontics (root canal therapy for broken or dead teeth)
Restorations
Orthodontics (braces to correct misaligned teeth and bites)
Pocket pet dentistry (advanced dental care for small animals)
And much more
Contact Our Pet Dental Care Veterinarian Today
You wouldn't go years between dental cleanings, so why should your pets do without proper oral care? Both dogs and cats can greatly benefit from routine and advanced pet dental care services. Are you interested in learning more about the importance of preventative and emergency pet dental care? Call 570-839-1922 or visit our veterinary oral surgeon online for more information and be sure to schedule an initial consultation today.